Camp Pila is a campsite in Punat, Primorje-Gorski kotar, located by the sea.This camp site with sloping grounds has pitches which are marked out and pitches with some shade. It is possible to rent mobile homes. The camp site has a playground and a sports ground.
Show more

The following rules apply to pets at (Camp Pila):
- Dog(s) permitted in low season (if on a lead)
- Dog(s) permitted in high season (if on a lead)

For sportive holidaymakers the camp site offers excursion programmes. There is an entertainment programme. You can swim nearby in the sea. At Camp Pila you can go snorkelling, windsurfing and waterskiing.

You don't always have to cook, as the camp site has a snack bar and restaurant (with full menu). The camp site also supplies fresh bread. You can also use the internet, as the camp site has one or more computers with an internet connection and you can access the internet with your own laptop in 80% of the camp site.
Low-season discount with CampingCard ACSI
Affordable camping in the low season with CampingCard ACSI
CampingCard ACSI is a useful little card that will earn you up to 50% discount on your holiday! In 2016 you can choose from no fewer than 3142 campsites in 20 European countries. You will pay one of the four fixed, low rates in the early and late season!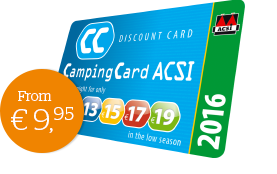 The advantages
Up to 50% discount! You can stay even more inexpensively at the loveliest campsites throughout Europe for four fixed rates using your CampingCard ACSI.

3142 campsites, all inspected by ACSI! You are welcome at 3142 campsites covering 20 European countries with your CampingCard ACSI

Affordable camping with your (grand)children 3 children (under 6 years) are included in the CampingCard ACSI rate at more than 700 campsites
Campsite opening period + your holiday period
August 2016
Mon
Tue
Wed
Thu
Fri
Sat
Sun
1
2
3
4
5
6
7
8
9
10
11
12
13
14
15
16
17
18
19
20
21
22
23
24
25
26
27
28
29
30
31
September 2016
Mon
Tue
Wed
Thu
Fri
Sat
Sun
1
2
3
4
5
6
7
8
9
10
11
12
13
14
15
16
17
18
19
20
21
22
23
24
25
26
27
28
29
30
October 2016
Mon
Tue
Wed
Thu
Fri
Sat
Sun
1
2
3
4
5
6
7
8
9
10
11
12
13
14
15
16
17
18
19
20
21
22
23
24
25
26
27
28
29
30
31
November 2016
Mon
Tue
Wed
Thu
Fri
Sat
Sun
1
2
3
4
5
6
7
8
9
10
11
12
13
14
15
16
17
18
19
20
21
22
23
24
25
26
27
28
29
30
December 2016
Mon
Tue
Wed
Thu
Fri
Sat
Sun
1
2
3
4
5
6
7
8
9
10
11
12
13
14
15
16
17
18
19
20
21
22
23
24
25
26
27
28
29
30
31
31 Campsite open
31 Campsite closed
31 Selected date
Detail information about this campsite
This inspector visits Camp Pila every year and inspects the campsite on the basis of more than 200 amenities and other points of interest. The inspector is an ACSI staff member and does not work for the campsite.
Toilet facilities

7.3

Staff

7.6

Price - quality comparison

7.2

Camping pitch

7.2

Accommodation

7.4

Child friendliness

7.5

Entertainment

6.6

Sports facilities

6.2

Swimming pool

4.5

Food and drink

7.4

Surroundings

7.8
Natalie, on this campsite in September 2016
Travelling party: Young couple
Wir waren voe kurzem auf diesem Campingplatz. Prinzipiell war unser stellplatz gut gelegen. Da wir mit einem wasserfreudigem Hund unterwegs waren, können wir diesen Platz für schwimmende Hunde überhaupt nicht empfehlen! Der Hundestrand ist ca 2 km entfernt und extrem felsig, eng und kein wirklicher Strand. Des weiteren lässt die Hygiene der Sanitärräume sehr zu wünschen übrig - Flecken an den Duschwänden vom 1. Tag waren auch am Abreisetag noch vorhanden. Für Bootsbesitzer sicherlich ein geeigneter Platz, da man von dort aus viele Buchten anfahren kann, aber für mehrwöchigen Urlaub vor Ort von unserer Seite absolut ungeeignet!
S.W., on this campsite in August 2016
Travelling party: Family with children <4 years
Sind auch ohne Reservierung gut aufgenommen worden und haben einen schönen Platz unter Kieferbäumen bekommen. Der Platz ist sehr gross, viele Dauercamper aber trotzdem sehr angenehm angelegt. Der Baumbestand ist toll. Leider trifft das auf die Sanitäreinrichtung nicht zu. Trotz meiner Bitte zum säubern der Toiletten hat sich am penetranten Uringeruch in der Herrenabteilung nichts geändert. Alles in allem hanen wir den Aufenthalt sehr genossen.
Rainer, on this campsite in July 2016
Travelling party: Couple
Wir (2 Erwachsene, Wohnwagen) haben diesen Platz gewählt, obwohl wir einige negative Beurteilungen früherer Gäste gelesen hatten. Aber auf unserem \"Wunsch-Campingplatz\" konnten wir bereits im Januar leider keinen Stellpaltz mehr bekommen. So erschien uns Camping Punat als \"noch akzeptabel\". Die Buchung klappte problemlos.
Am \"Premium\"-Platz war nur der Preis \"Premium\" - die Versorgung mit Strom, Wasser, Abwasser liegt nicht wie üblich im Schnittpunkt von 4 Plätzen und wäre so von jedem Platz gut erreichbar, sondern ist \"irgendwo\" für meistens 6 Plätze vorhanden, mit teilweise sehr weiten \"Wegen\". Wenn ich Abwasser hätte anschließen wollen, hätte ich mindestens 25m Abwasserschlauch (und wahrscheinlich eine Pumpe) benötigt. Zudem gibt es sehr viele Dauercamper (geschätzt mindestens 70%), die diese Servicestellen mit Küchenzelten, Vorzelten, Gartenduschen, Pavillions etc.vollkommen \"zugebaut\" haben und nicht wollen, dass man ihren Platz betritt. Wie soll man da an Wasser und Strom kommen? Ich habe mehrfach mit diesen \"Campern\" (überwiegend Slowenen mit denen ich mich nicht wirklich gut verständigen konnte) auf englisch diskutieren müssen, wenn ich Frischwasser holen musste. Nur eine Familie war sehr freundlich und hatte damit überhaupt kein Problem.
Geworben wird mit WLAN - tatsächlich ist es allenfalls in der Nähe der Sanitärgebäude und der Rezeption vorhanden - meistens funktioniert es dort aber auch nicht oder nur sehr eingeschränkt oder extrem langsam.

Die Wege zu den Sanitärgebäuden sind teilweise sehr(!) weit, insbesondere von den \"Premium\"-Plätzen in Meernähe.
Von den drei Sanitärgebäuden sind zwei klein und alt, aber renoviert. Das dritte ist groß und modern (bis auf die Urinale). Für die im Sommer ausgelastete Gesamtkapazität des Platzes fehlt ein weiteres Sanitärgebäude in Größe des moderen Waschhauses. Alle Sanitärgebäude müssten häufiger und vor allem gründlicher gereinigt werden. Die \"Bauart\" der Urinale ist eine Katastrophe, die ursächlich für den starken Uringeruch auch im modernen Sanitärgebäude ist.

Das Personal ist manchmal überfordert und überwiegend nur der Landessprache mächtig - Englisch geht häufig noch, Deutsch nur sehr wenig, Italienisch gar nicht. Wir hatten das Gefühl, dass sich ausschließlich bemühte Aushilfen um die Campinggäste kümmern. Für die Unzulänglichkeiten sind sie nicht verantwortlich und schauen einen bei Problemschilderungen nur treu lächelend an, ohne wirklich helfen zu können. So fiel eines abends der Strom komplett aus, die Reaktion an der Rezeption war ein hilfloses Schulterzucken - Folge: eine stromlose Nacht, am nächsten Morgen nochmals die \"Wanderung\" zur Rezeption, nach etwa einer Stunde wurde das Problem dann behoben.

Insgesamt hatten wir das Gefühl, dass die Eigentümer nur am Geldverdienen und nicht an der Zufriedenheit der Gäste interessiert sind. Beispiele:
Es gibt ein Restaurant auf dem Platz, aber die Anlage ist rundherum vollkommen ungepflegt, die Wege sind unkrautüberwuchert, alles ist völlig lieblos gestaltet. Das Personal hat sich auf der Schattenseite des Gebäudes einen Plastiktisch mit einigen Stühlen aufgestellt - dort sind fast ständig Reinigungspersonal, Kellner und Köche bei \"Raucherpausen\" zu sehen. Wegen dieses äußerlichen Bildes haben wir das Restaurant nicht besucht (und hier auch nicht bewertet).
Gleich neben dem Restaurant befindet sich die (quasi nicht genutzte) \"Kinderanimation\" - eine Art \"Schuppen\" mit verblassten Beschriftungen, uraltem \"Programm\" und einer Bierzeltgarnitur - wir haben dort nie Kinder gesehen.
Als \"Sporteinrichtung\" ist ein schmuckloses Beton-Basketballfeld neben dem Restaurant zu nennen.

Eine Einkaufsmöglichkeit ist neben der Rezeption vorhanden. Wir haben sie nicht genutzt und können deshalb dazu nichts sagen. Unsere Frühstücksbrötchen haben wir immer bei einer kleinen Bäckerei an der Strandpromenade gekauft.

Selbstverständlich haben wir die hier beschriebenen Unzulänglichkeiten mehrfach bemängelt. Man war dann nach Rücksprache mit einem Verantwortlichen bereit, uns einen Preisnachlass von 10% auf die Personengebühr zu gewähren. Lieber wäre uns gewesen, wenn man unsere Unzufriedenheit ernst genommen hätte. Wir hatten nicht das Gefühl, dass man bereit ist etwas zu ändern, obwohl die Kritik vieler Gäste immer in die gleiche Richtung geht...

Außerhalb des Platzes liegt zum Meer die Strandpromenade, die durch mehrere unverschlossene Türen vom Platz erreichbar ist. Dort gibt es Bäckereien, Verkausfsstände, Eisdiele, Bars und Restaurants etc. Den Strand können wir nicht bewerten, da wir tagsüber immer mit dem Boot unterwegs waren. Das Wasser in diversen Buchten ist aber eine Sensation! Superklar, supersauber - ein Traum!

Fazit:
Kann man machen - muss man aber nicht...
Jolanda, on this campsite in July 2016
Travelling party: Couple
Hier voor 2 nachten gestaan. Hele kleine plaatsen. Camping ligt aan de boulevard. Iedereen loopt erlangs. Restaurant op de camping vinden wij niet zo. Geen entertainment. Wel buiten de camping allerlei tentjes waar je wat kan drinken en waar er \'s avonds muziek is.
Roland L., on this campsite in September 2015
Travelling party: Family with children, 4 – 12 years
Anfang September 2015 waren die Campingplätze auf der Insel Krk nahezu vollständig belegt. Nachdem der Camping-Krk bereits ausgebucht war, mussten wir notgedrungen auf den Camping Pila ausweichen. Ein Mitarbeiter an der Schranke fängt ankommende Camper ab und schickt sie mit einem Platzplan auf den Rundgang. Im der grünen Zone war schon alles so voll und eng das wir uns für die orangene Zone mit Aufpreis entschieden haben. Plätze der orangenen Zone sind parzelliert, grösser und haben anstatt blanker braunroter Erde einen geschotterten Untergrund sowie Wasseranschlüsse in Reichweite. Die Parzellen in der ersten Reihe liegen unmittelbar am Zaun zur Flaniermeile und sind dadurch nicht jedermanns Sache. Erneut fällt der oft gesehene und unterdurchschnittliche Standard kroatischer Campingplätze auf. Zurück an der Rezeption eine Warteschlange bis draußen. Ausweise oder Reisepässe werden einbehalten. Die Anmeldung erfolgte problemlos, auch die ACSI-Karte wurde ordnungsgemäß akzeptiert. 3 Waschhäuser, 1 kleiner Supermarkt und ein Gaststätte auf dem Platz. Die Gaststätte haben wir nicht getestet. Die Waschhäuser sind leider nur mäßig gepflegt. In den Duschen hängen Die Haare tagelang am Abfluss. Auf der Männertoilette roch es nach Urin. Nachts ist es auf dem Platz mitunter sehr dunkel, teilweise liegt die Platzbeleuchtung zu weit auseinander oder ist ausgefallen. Meterhohe Stufen sind ungesichert, Gewegplatten stehen hoch oder sind lose. Verlässt man den Platz in Richtung Meer befindet man sich auf einem öffentlichen Weg, der von Punat her kommend am Platz vorbeiführt. Ein \"Strand\" ist nicht vorhanden da der komplette Bereich betoniert und für die Anzahl der Campinggäste definitiv zu klein ist. Ins Wasser geht es über Treppen. Der Schwimmbereich ist nach wenigen Metern begrenzt, weil in Punat ein großer Bootsanleger liegt und den ganzen Tag Motorboote in nächster Entfernung vorbei fahren. Einen Kieselstrand gibt es links vom Campingplatz in ca. 400m Entfernung, hier sind auch Stände mit Obst, Backwaren etc. Der erste Bäcker neben dem Campingplatz ist spitze! Unschön sind die die abgewrackten Wohnwagen am südlichen Platzrand. Hier haust das Personal des Platzes. Augenscheinlich bedient man sich billigster Arbeitskräfte aus Bosnien und weiter südlich. Flaschen werden aus den Containern sofort eingesammelt. Die Mülltrennung ist vorhanden damit der deutsche Urlauber glücklich ist. Die gelben, blauen, grünen und braunen Container werden aber vom selben Müllauto mitgenommen. Nimmt man die zahlreichen Einschränken in Kauf kann man es hier einige Tage ganz gut aushalten. Für einen 2-wöchigen Urlaub kann ich jedoch keine Empfehlung abgeben.
Detlef Kürschner, on this campsite in October 2014
Travelling party: Couple
Wir wollten diesen Campingplatz am 13.10.14 besuchen, nach dem Katalog bis 18.10.14 geöffnet. Leider war schon geschlossen. Haben uns darüber sehr geärgert, denn telefonisch war auch niemand zu erreichen. Wir werden diesen Campingplatz nicht mehr anfahren.
Diesen Campingplatz können wir nicht weiter empfehlen.
.
R.H. Weers, on this campsite in June 2014
Deze beoordeling is als enquete afgenomen door onze inspecteur op de camping zelf.
J.F. v.d. Wiel, on this campsite in June 2014
Deze beoordeling is als enquete afgenomen door onze inspecteur op de camping zelf.
Michael, on this campsite in May 2014
Travelling party: Family with children <4 years
Der Campingplatz besticht durch seine Nähe zum Meer und zu Punat. Sanitäranlagen sind okay, immer sauber. Je nach Standort steht man recht eng zusammen. Am Wochenende wird man durch die Diskotheken in der Umgebung bis Nachts beschallt, nicht schön, aber auszuhalten. Generell fahren wir gerne auf den Platz weil man sich in der Umgebung vielseitig betätigen kann (Wandern, Radfahren, etc.)
Anne-Marie MENANT, on this campsite in September 2013
Travelling party: Seniors
Très bel emplacement du camping. Accueil pas très chaleureux. Un peu compliqué pour trouver un emplacement car places réservées pour les Acsi. Beaucoup de taxes en plus des 16€ !!
General information
Guide price 1

€37.00

Guide price 2

€42.00

Period of opening

22/04 till 09/10

Area

7 ha

Number of touring pitches

600 (80 - 100m2)

Number of permanent pitches

200

Number of accommodation units for hire

12

Campsite suitable for disabled persons

Yes
* Facilities printed in bold are not included in the overnight rate. Supplementary charges will apply. (This does not mean that facilities which are not printed in bold are free!)
Popular amenities

WiFi 80-100% coverage

Dog(s) in high season (on lead)

Situated on the coast (max. 0.5 km)

ACSI Club ID is accepted as an identity document

Mobile homes
At the reception

ACSI Club ID is accepted as an identity document

Advance booking recommended for high season

Credit cards accepted

credit card: Amex | Diners Club | MasterCard | Visa Card

Payment by debit card/Maestro possible

Cash dispenser/cashback possible

Languages spoken at reception (during the main season)

languages: German | English | Italian
Pitch amenities

Water connection at/near the pitch (max. 15 m)

Tap at/near the pitch (max. 50 m)

Also suitable for caravans > 5.5m, excluding towbar

Electrical hook-ups possible to maximum %s amps

Max. electricity: 10 ampère

Euro-plug required
Internet

Internet access

WiFi 80-100% coverage
Situation of campsite

Situated on the coast (max. 0.5 km)

Distance to the sea (max. 10 km)

Panorama

Public transport near the camp site (max. 0.5 km)

Shopping opportunities within %s km
Dogs

Dog(s) in high season (on lead)

Dog(s) in low season (on lead)
Swimming

Sea swimming (max. 0.5 km)

Beach showers
Beach

Stony beach

Artificially hardened beach
For children

Children's playground: large

Entertainment programme: Children (at least 2x a week - h.s.)

languages: German | English | Italian
period: 01-07/31-08

Mini club (at least 4x a week - high season)

languages: German | English | Italian

Children's sanitary facilities

Baby room

Video games
Toilet facilities

Washbasins: hot water

Washbasins: cold water

Individual washcabins: hot water

Individual washcabins: cold water

Children's sanitary facilities

Standard toilets

Toilet paper provided

Chemical toilet disposal point

Showers: hot water

Showers: cold water

A shower (150 cmsx150 cms minimum) and a toilet (165x220cms or 190cmsx190cms minimum)

Disabled sanitary facilities only open for the disabled

Shower seat / shower chair (folding or mobile) approximately 48 cm high

Baby room

Beach showers

Tap without push control
Sport and games
Ground and vegetation

Pitches with some shade

Marked pitches

Grass

Hard ground

Sloping site
Campsite rules

Dog(s) in high season (on lead)

Dog(s) in low season (on lead)

Caravans allowed

Tents allowed

Small extra tent permitted

Motorhomes allowed

Twin-axle vehicles permitted

Barbecues permitted

type of BBQ: electricity | gas

Own boats permitted

motorboat (length: 6 m)
sailing boat (length: 6 m)

Motorboat

Sailing boat
Food, drink and groceries

Fresh bread available at the camp site

Groceries: extensive selection

Restaurant (with ample choice)

Canteen/restaurant with level entrance or with ramp

Snack bar

Takeaway meals

Bar

Freezing for cooling elements
Washing, washing-up, cooking

Washing up sinks: hot water

Washing up sinks: cold water

Individual cooking facilities

Washing machine(s)

Laundry sinks: cold water

Laundry sinks: hot water

Dryers

Ironing facilities
Recreation (adults)

Fishing

Pool or billiards

Excursion programme (at least 2x a week - m.s.)

Television

Video games
Water sports and recreation

Fishing

Windsurfing permitted

Jetty/buoy

Snorkelling

Waterskiing permitted

Motorboat

Own boats permitted

motorboat (length: 6 m)
sailing boat (length: 6 m)

Sailing boat

Sailing permitted

Sailing lessons

Trailer slope
Available to hire at the campsite

Mobile homes

Refrigerators

Mountainbikes

Locked refrigerator

Safes
Wellness
For motorhomes

Motorhomes allowed

Special facilities for motorhomes

Also suitable for motorhomes > 8m and > 4 tonnes

length: 10
weight: 8000 kg
Miscellaneous

Footpaths and roads are lit

Patrolled grounds

Quiet only at night

Temporary pitches outside the campsite with electricity

Door-springs light enough (3-4 kgs pressure)
Address & Route
Would you like to book campsite Camp Pila or request more information? You can do both using the information below or by visiting the campsite's website.
Camp Pila
Setaliste i. Brusica 2
51521 / Punat (Krk)
Croatia


Download GPS coordinates

Select your navigation system:

When approaching from Krk, drive past Punat in the direction of Stara Baska. The campsite is the first one located on the right.
The weather on this campsite
Weather forecast
Wed

26 / 10

Thu

27 / 10

Fri

28 / 10

Sat

29 / 10

Sun

30 / 10

Mon

31 / 10

Tue

01 / 11

Max.
20.1°
16.9°
17.6°
19°
19.8°
18.6°
16.4°
Min.
15.6°
13°
11.1°
9.6°
12°
11.9°
10.8°
Precipitation
30%
0%
0%
0%
0%
5%
5%
Wind direction
NO
E
E
E
E
NO
E
Wind speed
4
5
4
3
3
2
3
Climate
| | |
| --- | --- |
| | Relative humidity |
| Jan | 66% |
| Feb | 60% |
| Mar | 63% |
| Apr | 64% |
| May | 58% |
| Jun | 54% |
| Jul | 54% |
| Aug | 52% |
| Sep | 62% |
| Oct | 67% |
| Nov | 67% |
| Dec | 68% |
Information request
ACSI Eurocampings will send your information request to "Camp Pila".
Take note; you are sending an information request. You cannot make a reservation using this form. You will need to contact the campsite directly and ACSI Eurocampings cannot have any influence on the consequences thereof.