Campsite photos
Campsite photos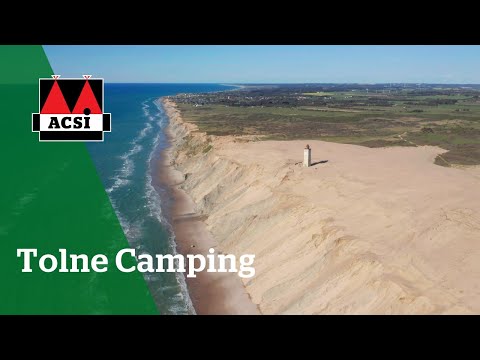 Tolne Camping
General information
The Tolne campsite is situated in a lovely spot on a hill and in a forest. The campsite is close to the tiny town of Tolne (North Jutland) in the very north of Denmark. Camping here means you're not far from the port city of Frederikshavn (15 km), beautiful beaches and the shallow bay Albæk Bugt. It is a very wooded area. The campsite is popular with those looking for peace and quiet, but this does not mean that there is nothing to do. There are sports facilities, you can get a bite to eat at the food truck, and a recreation room.
Show more

Terraced camping in nature

Here you'll find a well-maintained yet natural campsite with about 170 spacious camping pitches. You can pick your own spot. For example, in an open field or a bit more towards the forest. There are also twenty permanent annual sites and 17 rental accommodations. Handy if you are on holiday in Denmark without your own camping equipment. There are luxury cabins and glamping tents (for up to six people) with private sanitary facilities. The shared sanitary facilities are fine and clean. They are spread over two heated buildings.

Entertainment for young and old

Every Friday night in the low season (and a bit more often in the high season), they often eat together around the food truck. This is a fun way to get to know your fellow campers. And now that you've gotten to know them a little, you can ask them to play a game of table tennis, mini-golf or jeu de boules. Children can enjoy themselves in the playground, in the bouncy castle, at the animal enclosure or in the recreation room. All kinds of games can be played here, such as chess or billiards.