Campsite photos
Campsite photos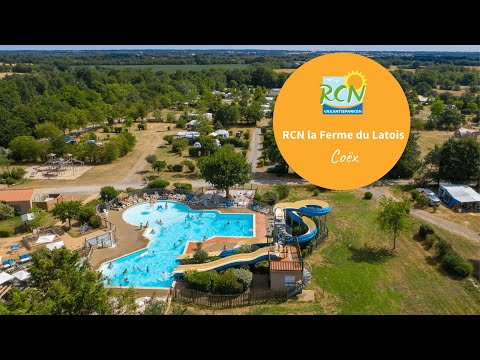 Camping RCN La Ferme du Latois

****
General information
Campsite RCN La Ferme du Latois is located in the sun-kissed rural Vendée region. The sandy beaches of the Atlantic Ocean are just 15 kilometres away from this farm campsite. The whole terrain exudes a relaxed country atmosphere, with ample opportunities for an outdoor holiday. And for campers looking for a little more action, there are plenty of opportunities in this versatile region.
Show more

In the middle of nature

The camping pitches at La Ferme du Latois are very spacious. There are several open camping pitches situated on grass. The trees bordering the camping fields provide shade. Campers have a choice of a standard pitch with electricity or a comfort pitch with a private water point and drainage. Clean and well-tended sanitary facilities are always nearby.

Water everywhere

The well-maintained swimming pool is divided into two parts: a splashing area for the slides and an area for swimming. The heated swimming pool is surrounded by a wooden fence. There is also a small paddling pool. Next to the campsite lie two lakes where you can go swimming, water biking, fishing or canoeing. On the nearby beaches, you can hunt for shells, go swimming or practice water sports.

Sport and games

There is plenty of playing room on the campsite for the children. The entertainment team also provides plenty of entertainment with a crafts club, dancing lessons and afternoons with face painting. There are also trampolines and table tennis tables and you can play a game of jeu de boules.

Food and drink

You can have a tasty and affordable meal at the small but welcoming restaurant on the campsite. You can also grab a tasty snack at the snack bar or in the small supermarket. And for a delicious breakfast, visit the croissant shop in the mornings.