Campsite photos
Campsite photos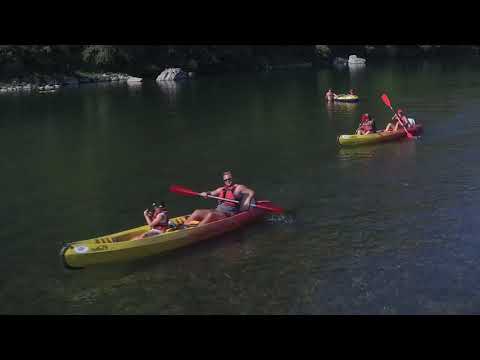 Campsite La Grand' Terre

****
General information
Camping La Grand' Terre is situated at a top location, bang in the middle of the Ardèche, directly on the river with the same name. The camping is situated near the small town of Ruoms where you you can wander among the attractive shops for tourists. Feeling like a more active day? Then there are fantastic walking, horse riding or exciting canyoning tour opportunities in the area.
Show more

Camping La Grand' Terre is a real family camp site and eminently suitable for families with young children. It is a very green camp site, creating a very impressive contrast with the grey-coloured rocks in the background.

The camping pitches are spacious and a large portion is shaded. The surface is very diverse: from grass to sand and rock-bed. Please take this into consideration when packing your tent pegs. You can choose between a spot along one of the pathways or between the trees in the woods.

Swimming pool 'with a view'

In the centre of the camp site, you will find a playfully designed swimming pool with a water slide and a separate paddling pool. The view from the swimming pool is magnificent; you look against impressive rock formations. The pool is surrounded by deckchairs which you can use free of charge. In peak season, water aerobic lessons and water games are organised in the pool.

Romping around the playgrounds and training on fitness equipment

Smaller children can climb and romp around to their heart's content in the playground and teenagers will get together at the ping pong tables or on the multi-sports fields. Enjoy a nice game of tennis or put in some training on the outdoor fitness equipment.
Campsite accepts ACSI Club ID
Popular amenities
Dog(s) in high season (on lead)
ACSI Club ID is accepted as an identity document