Campsite photos
Campsite photos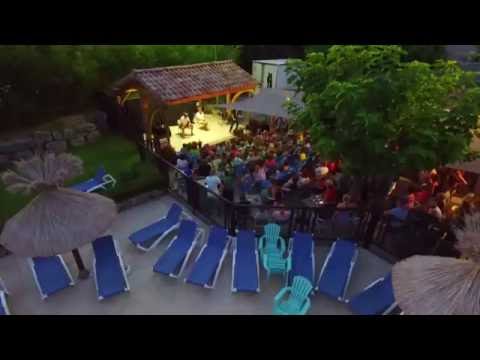 Campsite Domaine de Gil

****
General information
Domaine de Gil campsite is a friendly well-organised family campsite in the south of the Ardèche. The river of the same name flows directly alongside the campsite, which makes the location really unique. Right on the water there are also a few great camping pitches, where the water falling from the dam acts as background music. There's a private beach where you can enjoy the beautiful colours of this rugged piece of natural beauty.
Show more

Camping under the trees

All the spacious pitches are flat and unpaved. They are separated from each other in a pleasant way with various shrubs, trees and hedges. The trees are spread over the whole area, making sure that the whole area is pleasantly shady. Something to be aware of with satellite reception. In quiet periods, it's even possible to choose your own pitch. At the campsite, there is plenty of space for different types of mobile homes, and for holiday rentals.

Double the fun in the water

The swimming pool is built with an eye for detail. Thanks to the heated water it's always fun to dive into the deep end. Then sunbathe on one of the wonderful sunbeds, or choose a nice place in the shade. There is plenty of shade thanks to the tall trees, covered terraces and thatched umbrellas. Children can enjoy themselves in the kids pool, while their parents keep an eye on them from the hot tub. The pool is illuminated at night, making it even more inviting. A short walk takes you to the river bank. The slowly meandering river is a wonderful place to play, flat around on an airbed or bathe. Or take your chair with you and enjoy the beautiful view.