Campsite photos
Campsite photos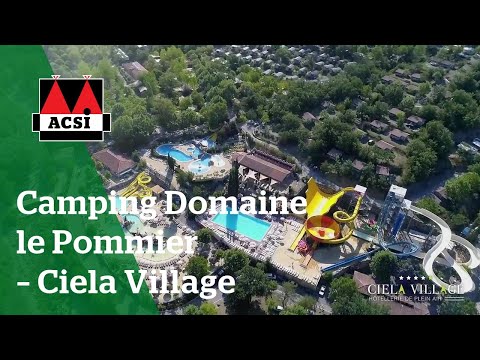 Campsite Domaine le Pommier - Ciela Village

*****
General information
On the large-scale family camping site Domaine le Pommier, situated in the south of the Ardèche, there is plenty to do for each family member. With a gigantic swimming complex (more than 10 slides), several types of sports fields and professional entertainment teams there is enough to keep one busy. The camping site is located on a mountain. This provides you with a lovely view of the rugged, lush environment.
Show more

Pitches and accommodation for all

The camping site is large and has a large number of streets. There is a fair amount of vegetation in the form of bushes and trees. You have a beautiful view from virtually everywhere. The large site is home to 220 touring pitches and almost 600 rental accommodation units. The pitches are demarcated here and there and most of them are in the shade. The surface is grass or gravel.

Furthermore, there is a large variation of accommodation units: tents, mobile homes, bungalows and 'Pipo' caravans. Both small and large groups can be accommodated here.

Largest swimming pool complex in the country

Water fanatics do not need to look any further than camping site Le Pommier. The swimming complex of the camping site, named 'Aqua'Ardèche' is the largest in France. Laid out on 1.2 ha are 12 water slides, various heated pools, waterfalls, a jacuzzi, a pirate ship and a variety of play equipment.

The little ones can play in the toddler pool, real water fanatics can head for the pool with underwater jets. The pools are located in the sun but with a large number of sun umbrellas and loungers available you can also enjoy the shade.

Spoilt for choice

The camping site has no fewer then six catering establishments, varying from a large, luxury restaurant (with an array of delicious regional dishes) to a pizza restaurant. The last restaurant has an attractive terrace and a stage. Here you can enjoy a variety of evening performances.