Campsite photos
Campsite photos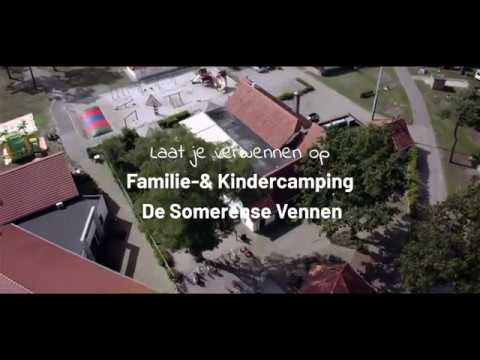 Campsite De Somerense Vennen
General information
In the convivial Noord-Brabant, half an hour's driver from Eindhoven, lies campsite De Somerense Vennen. Surrounded by woods and moorland you feel like you are camping amidst nature. The last part of the route to the camping takes you past meadows and trees, which only enhances the natural atmosphere of the campsite. The village of Someren is within cycling distance: ideal to do some grocery shopping and to get fresh rolls in the morning.
Show more

Camping on the edge of the woods, with a view of the cows or close to the beautiful swimming pool; there are all kinds of beautiful pitches in various sizes on the campsite. The great holiday feel spills over into the Spanish chalets, which are fitted with a lovely massage shower, three bedrooms, and French doors opening onto the terrace with picnic table.

Fun under cover

In inclement weather it is nice to make use of the indoor facilities. They certainly have taken this into consideration at campsite De Somerense Vennen. There is a beautiful, indoor and heated swimming pool for lots of water fun for young and old. There is a separate children's pool for the tiny ones.

Not only is there an indoor swimming pool, there is also a large indoor playground and sandpit with zip-line where children can play and romp all day. But why stay inside, when nature awaits you outside? The campsite is situated in the middle of woods and a stone's throw away from the Someren moorland. Perfect for a cycling trip, walk or horseback riding. The stables on the campsite have a few horses for riding.