Campsite photos
Campsite photos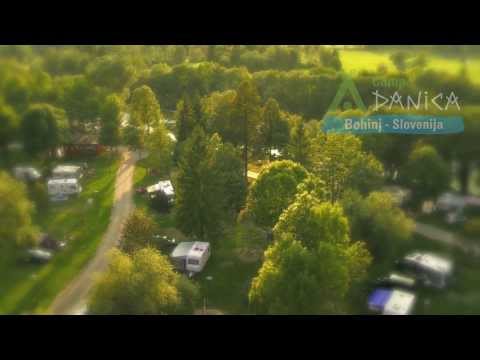 Camp Danica Bohinj

****
General information
In the Slovenian village of Bohinjska Bistrica, in the heart of the Julian Alps, lies Camp Danica Bohinj. This is a traditional area with picturesque houses. National Park Triglav is situated in the region around the mountain of the same name. Danica Bohinj is an ideal spot for holidaymakers such as mountain hikers, cyclists, kayaking and rafting enthusiasts. There are also ample winter sports possibilities.
Show more

Family campsite on a river

The campsite lies alongside the Sava River and has a large central area with non-demarcated pitches. There are also pitches by the river; these are the nicest. In peak season it can get pretty busy here. In July and August you can swim in the shallow and fast flowing water. You can also hire tents on the campsite.

Traditional Alpine style

The campsite restaurant in traditional Alpine style is an absolute must. It has a fine menu, a reasonably priced luncheon menu and you will enjoy Slovenian cuisine. The campsite has a playground for children and further offers various sports, such as tennis, badminton and volleyball. Other than that, Danica offers only basic facilities. In the village, within walking distance, you will find a supermarket and various restaurants. Furthermore, at some 200 m from the campsite, there is a lovely thermal swimming pool with indoor and outdoor pool and an extensive range of wellness options.

Attractive and modern sanitary facilities

The main sanitary building is attractive and contemporary. There are two further ablution buildings in container style, which are quite compact and very basic. They also have sanitary facilities for children. In peak season, when the campsite is fully booked, you do not always have unlimited hot water for showering. A matter of getting there in time...