Campsite photos
Campsite photos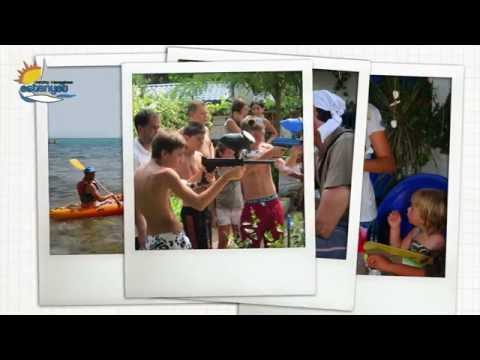 Campsite Estanyet

****
General information
Estanyet is the most southerly located campsite in Catalonia. This quiet and charmingly landscaped campsite is located practically on the beach, just south of Les Cases d'Alcanar. The sanitary facilities here are excellent. There is plenty to do for the children on the campsite. The sea, of course, also offers plenty of opportunities for recreation.
Show more

Atmospheric and vibrant campsite grounds

The campsite grounds are charmingly landscaped. Everywhere are shrubs, colourful flower beds and tall palm trees. You drive to your camping pitch via a paved road which runs in a loop over the elongated grounds. The camping pitches are marked by hedges and wild growing trees, which also provide the necessary shade. The campsite also has several different types of homes available for rent. Most of them have a charming veranda.

Beautiful outdoor pool with patio

There is a beautiful and not too large swimming pool where you can take a refreshing dip. Comfortable loungers are available on the patio surrounding the swimming pool. The adjacent restaurant offers views of the swimming pool and has an exceptional menu. There is also a small campsite shop with a very limited range of supplies.

Beautiful promenade

The campsite is situated practically on the pebble beach. You only need to cross the road to get there.
Just off to the left is the beginning of a palm tree-lined promenade which leads to the harbour of Les Cases d'Alcanar. It is fun to follow this promenade on foot, by bike or using roller blades. You can also have a wonderful time on and in the sea. Discover what lies beneath the waves while snorkelling or scuba diving or make a trip in a rented kayak.