Campsite photos
Campsite photos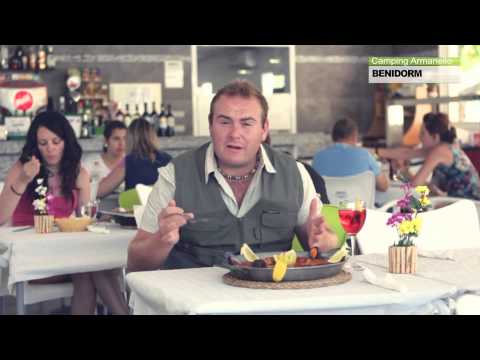 Campsite Armanello

***
General information
The cheerful campsite Armanello is situated in the province of Alicante near Benidorm, between the mountains and the sea. There is a wonderful beach of fine sand and you will enjoy the lovely climate through the year. You camp in Armanello within walking distance of the centre, boulevard and sea. Everyone is welcome: families, young people who are here to enjoy the beach and discos, but also senior citizens spend winter here and stay in comfortable bungalows.
Show more

A varied terrain

The terrain is divided in an older section at the front (only permanent pitches) and a new section at the back. The new section looks well maintained with a tent area and a 'district' with bungalows. A part of the tent area looks more like a campsite for the youth: lots of small tents close to each other. The sites are beautifully laid out, with alternating sunny pitches and pitches partly under trees.

Unique accommodation

On the new section along neatly paved streets are 31 surprisingly modern rental accommodation units. These range from small barrel homes, larger sleephouse cottages and mobile homes to cheerful and brightly coloured luxury bungalows (air-conditioning, TV, microwave, large fridge, veranda). This 'district' looks rather barren: not a blade of grass in sight. However, here and there is a hedge or palm tree.

Swimming

When you come here to swim in the sea, it is only a 1.5 km walk from the campsite. The beach here is one of the most attractive in the country, with white fine sand. There is also a swimming pool on the campsite (60 m2) with grass lawn, sun loungers, sun umbrellas, palm trees, terrace and bar.