Campsite photos
Campsite photos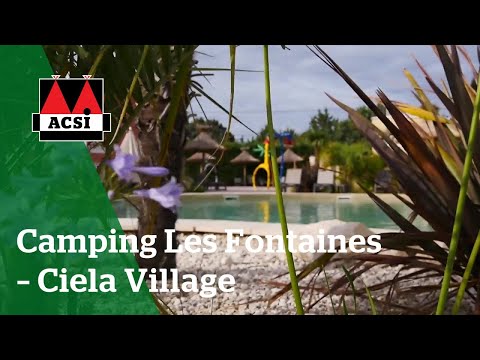 Campsite Les Fontaines - Ciela Village

*****
General information
Camping Les Fontaines is situated just a kilometre away from Pernes-les-Fontaines, south of Carpentras. Pernes-les-Fontaines is a lovely small town with charming narrow streets, shops and restaurants. You can easily walk into town from the campsite.
Show more

Standard and comfort pitches

Most of the camping pitches are located on grassy soil and have marked boundaries and electricity. There are standard pitches and comfort pitches which are larger. There are two sanitary facilities, one of which is centrally located among the pitches. One of the buildings is heated in the low season.

Luxury rental possibilities

There are also rental options available on Camping Les Fontaines. There are various mobile homes and chalets for rent. When you are looking for a luxury camping holiday, you can book the Taos Premium. These wooden mobile homes are very well-equipped with contemporary furnishings.

Swimming pool with play equipment

The swimming pool at Camping Les Fontaines has a playful design, with round shapes forming it into a type of lagoon pool. You can reach the other side of the pool via a small bridge. There are palm trees, thatched sunshades and loungers which add to the tropical atmosphere. The Aquatic Area Difasplash was added in 2016 with a water slide and play equipment, under which you can walk while they spout water. There is also a separate paddling pool.

In July and August there is plenty of entertainment available at Camping Les Fontaines. Children can visit the KidsClub and play games, but there is also table football, a playground, table tennis and a boules court. The campsite has a varied entertainment programme in the evenings as well. There are shows, both for and by children, and musical evenings for the adults.