Campsite photos
Campsite photos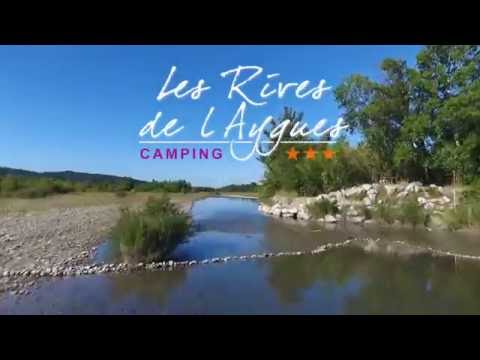 Flower Camping Les Rives de l'Aygues

***
General information
Camping Les Rives de l'Aygues is a campsite located in the countryside, right on the river L'Aigue. It is situated in a flat area, in a small forest and on the edge of vast vineyards. You'll camp on a well maintained site with a nice swimming pool, a good quality restaurant and a number of lovely camping pitches by the river.
Show more

Private and romantic touring pitches

The camping pitches of Les Rives de l'Aygues are particularly beautiful and offer a lot of privacy thanks to a small boundary created by bushes and hedges. There is plenty of shade provided by the tall trees. The touring pitches vary greatly in size: the largest measure no less than 300 square metres! Romantic pitches can be found right next to the river.

Water fun in swimming pool and river

The swimming pool of this campsite is over 14 meters long. This is an ideal place to play or to swim some laps. Even when the weather is not so good, because the pool is heated. The youngest campers have fun in the paddling pool with some play equipment. In the summer the river has a lower water level so bathing is possible.

Musical theme evenings

In the high season, occasionally theme evenings are organised by the campsite management. Music plays a prominent role. DJ's, singers and various musicians create a festive atmosphere.

Eating out on the campsite

In the restaurant you can also enjoy a tasty meal, such as homemade pizzas, salads and meat dishes. Furthermore, the (snack) bar with its pavement café overlooking the pool is very inviting.