Campsite photos
Campsite photos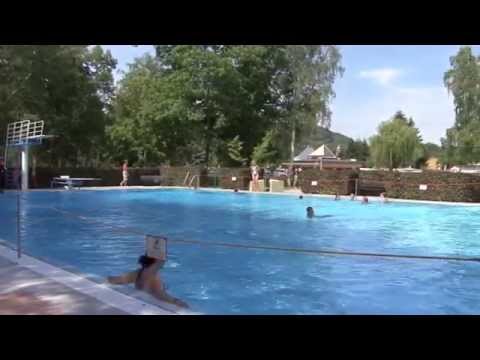 Campingpark Freibad Echternacherbrück
General information
Freibad Echternacherbrück campsite is just a bridge away from the Luxembourg town of Echternach. The two biggest plus points of this campsite are definitely the beautiful, spacious outdoor swimming pool, and the Sauer river that the campsite lies on. Canoeing, cycling, taking part in a sports competition, or just enjoying nature; it's all possible at this campsite in the Southern Eifel.
Show more

Camping at the water's edge

Freibad Echternacherbrück campsite is divided into several open grassy areas. You can set up your caravan on a pitch by the water, under the trees, or in the sun. The pitches run parallel to the river. All the amenities are located centrally at the campsite. There are separate camping areas for youth groups and clubs, with their own beach volleyball court and their own barbecues.

A refreshing dip

In the middle of the campsite there is also a spacious outdoor swimming pool. Little ones can enjoy the special wading pool. You'll find the waterslide in the middle pool. At the reception, you can get a wristband for access to the swimming pool. For this, you will pay a deposit of € 10. In the summer, the swimming pool is also perfect for an evening of disco-swim, a game of water polo, or a diving course. Of course, you can also swim in the Sauer river.

A paradise for nature and culture lovers

With the historic towns of Trier and Luxembourg nearby there's no shortage of culture either. In Echternach there is even an ancient Benedictine abbey. Prefer to head for nature? Venture out by bike or on foot and discover the green Müllertal and the famous southern Eifel.