Campsite photos
Campsite photos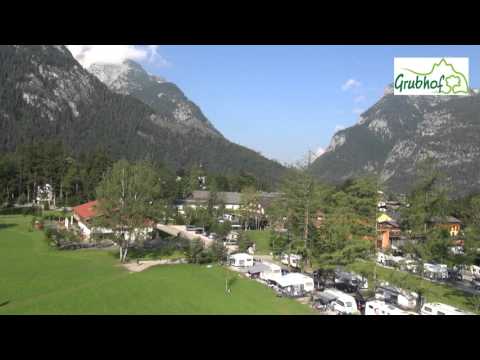 Campsite Park Grubhof

*****
General information
Camping Grubhof offers you camping in style and luxury. You will find peace and quiet, pristine sanitary facilities, generous pitches in a large park and a fine restaurant. The camping site is situated at the foot of the Alps in the Salzburg region. The area is one of the best known winter sports areas of Europe. Grubhof has recently been voted Europe's best camping site.
Show more

Clean all over

On the camping site, paved roads lead to spacious pitches, some of which are located along the river and with a view of the mountains. The pitches have sewage connection and electricity. The camping site also has a number of very luxurious rental log cabins. The grounds are beautifully laid out and are well maintained.

Fine food and wellness

In the large authentic farmhouse, where the reception is housed as well, there is a well-stocked supermarket and fresh bakery. There is also a good quality restaurant with Austrian but also
Italian and European dishes. On the first floor is a large wellness section for guests.

Luxury bathroom facilities

The sanitary facilities are houses in three buildings, which are very spacious and luxuriously finished, with large shower areas and generous toilets. You can also rent private sanitary rooms.

Swimming

Although Park Grubhof is a quiet camping site without much entertainment, a number of activities are available for children: a trampoline, soccer field and table tennis table. The river on the camping site is not really suitable for swimming, but in July and August you have free access to the swimming pool of Lofer (2 km).
Campsite accepts ACSI Club ID
Popular amenities
Dog(s) in high season (on lead)
ACSI Club ID is accepted as an identity document